Do we need a reason to treat out little girls to some new shoes every now and again? While there are certain times of the year when buying shoes is essential – for example just before the return to school, when girls school shoes from George are an absolute must-buy – it's not unknown for us to splash out on some new treads other times, too. Whether your little princess needs some new kicks because her feet have started to grow, or you buy some for no reason other than you've seen a cute pair of pumps that would look perfect on her little feet, here are some perfect ideas for the upcoming autumn and winter seasons, so that whatever you splash your cash on, at least your little girl will get some wear out of them.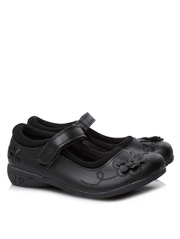 The School Shoe
You've probably already kitted out their feet by now, seeing as the new term has started, but make sure you keep an eye on your girls school shoes, just in case they need to be replaced. Whether they've been scuffed one too many times or they have a little growth spurt, you can always invest in a new, reasonably priced pair from George whenever you see fit.
The Canvas Shoe
These are a perfect option for a casual pump that would look ideal with skinny jeans and skirts alike. Choose some with sequins for a little added glitz and glam to make any girly princess happy.
Younger girls may like the super cute Velcro strap Dalmatian Print Canvas Shoes for £6 from George, so that they don't have to faff with laces every time they want to add them to their outfit.
The Wellies
These are absolutely essential as the heavens start to open and the rain begins to fall. We may have enjoyed a fairly hot summer, but don't let that give you a false sense of security – the rain will come and, when it does, your kids will love a cool pair of wellies to splash around in the puddles in.
The Ballet Shoe
Cool, funky and pretty, the ballerina shoe suits plenty of outfits and has a wonderfully feminine touch that ensures your daughter still feels girly. Younger girls may benefit from a pair with a thin strap to make sure the shoes don't slip off, while older girls may prefer ones without, such as the Quilted Stud Ballet Shoes for £8 from George. There are so many different designs available, you'll be spoilt for choice!
The Trainer
Perfect if you have a little tomboy in your house, who loves to play outside with her friends, climbing trees and playing sports, the humble trainers are an absolute must for most shoe racks. From trendy (but pricey) Converse or own brand hi-tops to simple trainers with an easy strap fastening, she'll love being physical with these on her feet!
Update their shoe wardrobe over the coming weeks and you can guarantee that whatever the weather, whatever the occasion, they'll have a pair of shoes to suit.